Another AMAZING "Superfood" Curry.*
It may look a bit green, it may not look that tasty, but it actually tastes FANTASTIC. Very yummy, very fresh, and I also LOVE that it's good for you and I get to blend stuff. I love to blend stuff.
*serves 2*
Total Prep to Serve time 45mins
Ingredients
Olive Oil
7 Green Cardamon Pods, lightly crushed
1/2 teaspoon cumin seeds
1/4 teaspoon nigella seeds
pinch of salt
1/2 onion chopped
3 garlic cloves chopped
1/2 teaspoon tumeric
250g(ish) of diced chicken
100g of spinich leaves
20g of Coriander
5 cherry tomatoes
1 large tablespoon of grated fresh root ginger
3 green chillis chopped
150g(ish) low-fat Greek Yogurt
1/2 teaspoon of garam masala
What you do
Pour the olive oil into a deep saucepan, add cardamon pods, cumin & nigella seeds and cook over a low heat until they start to pop. Add salt and onion and fry until onion is light brown in colour.
Stir in garlic and fry until a light brow colour. Mix in the tumeric and cook for about 20 seconds.
Add the chicken and cook until sealed all over, stirring frequently.
Meanwhile, add spinach, coriander, tomatoes, ginger, chillies and yoghurt to a food processor and purée.
5. Once chicken is sealed, pour in the purée, mix and simmer uncovered for 25 minutes, stirring from time to time.
6. A few minutes before the end of cooking sprinkle in the garam masala, season and serve with your choice of sides.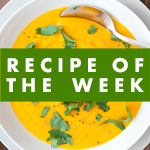 *More Superfood Curries can be found at http://gurpareetbains.co.uk/